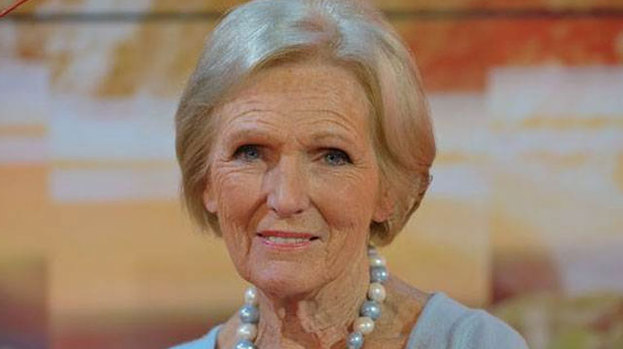 Afternoon tea is one of those lovely indulgences in life, and here expert baker Mary Berry shares some of the recipes from her new book
'Proper' Sandwiches
Breads and quantities:
Mary uses thinly sliced brown or white bread, which average about 24 slices. Allow one sandwich per person, if serving with scones and cake too, and a choice of two fillings.
Always taste the filling before you put it in the bread. Flavour is very important – cucumber needs plenty of pepper, for instance.
For afternoon tea, cut the sandwiches into four triangles or three long fingers, and cut off the crusts first, as below, to give a more elegant finish. Small, bite-sized sandwiches look best served alongside scones, mini tarts and slices of cake.
Cucumber: If making the day before, use slightly thicker slices of cucumber and lemon-flavoured butter. Season with black pepper.
Prepare ahead: The sandwiches can be made the night before, or in the morning before an afternoon event. Butter the bread, fill and stack no more than six sandwiches on top of each other. Put them, uncut, on large trays, cover completely with clingfilm, then a damp tea towel. Transfer to the fridge. No more than 2 hours before serving, trim the crusts from the bread using a very sharp knife
Mini Banoffee Pies
Everyone's favourite dessert – these individual pies are Lucy's recipe and are divine. Tins of ready-made caramel can be bought in any supermarket and save having to boil a can of condensed milk like we used to, to give it a caramel flavour.
Serves 8
Ingredients for the base:
40g (1½oz) butter, melted
75g (3oz) digestive biscuits, crushed
For the topping: * 50g (2oz) butter * 50g (2oz) light muscovado sugar * 1 × 397g tin caramel * 4 small bananas * 200ml (7fl oz) double cream, lightly whipped * 25g (1oz) square of dark chocolate
Method:
You will need eight 7cm (2½-in) cooking rings, arranged on a baking sheet. To make the bases, mix the melted butter with the crushed biscuits and stir until combined. Spoon evenly between the rings and press down with the back of a spoon. Chill while you make the topping.
Melt the butter in a saucepan then add the sugar and stir until dissolved. Add the caramel and stir until combined. Simmer for 1 minute then set aside to cool for a few minutes.
Pour the sauce into the rings on top of the biscuit base and chill for about 1 hour or until the toffee has just set. Slice the banana and arrange on top, then spoon or pipe over the cream. Slide a fish slice under each ring and move to serving plates. Remove the rings and finely grate chocolate on top of each pie to garnish. Serve chilled.
Prepare ahead:
The toffee can be put into the rings up to a day ahead. Top with banana and cream up to 6 hours ahead (leave the rings on as the banana will discolour if exposed to the air). Not suitable for freezing.
Mini Meringues
Meringues are a wonderful dessert and handy to have in the cake tin ready to fill.
Makes about 30
3 egg whites
175g (6oz) caster sugar
To serve
150ml (¼ pint) double cream, whipped
Fresh raspberries or strawberries
Method:
Preheat the oven to 140°C/120°C fan/Gas 1. Line a baking sheet with baking parchment.
You will need a piping bag with a 1cm (½in) plain nozzle.
Measure the egg whites into a large bowl (or the bowl of a free-standing machine). Whisk on high speed until white and fluffy, like a cloud. Still whisking on maximum speed, gradually add the sugar, a teaspoon at a time, until incorporated and the meringue is stiff and shiny and stands upright on the whisk.
Using the piping bag, pipe the meringue mixture into tiny rounds on the baking sheet – make sure they are the same size so they cook evenly.
Bake for about 45 minutes, or until the meringues come off the baking parchment easily.
Remove from the paper on to a cooling rack and set aside until stone cold.
Keep in the cake tin until ready to serve with whipped cream and raspberries, strawberries or other soft fruits.
Prepare ahead: The meringues can be make up to two months ahead and kept in a bag or box. They freeze well in a box (this avoids crushing).
Slide the baking sheet anywhere in the simmering oven and bake for about 1 hour 10 minutes or until the meringues are just firm to the touch and can be easily removed from the paper.
Buttermilk & Sultana Scones
Buttermilk gives a lovely, light texture to these scones. Omit the sultanas if you prefer plain scones.
Makes 12
Ingredients:
450g (1lb) self-raising flour
2 heaped teaspoons baking powder
75g (3oz) butter, cubed
75g (3oz) caster sugar
100g (4oz) sultanas
2 large eggs, beaten
1 × 284ml carton buttermilk
To serve
Method:
Preheat the oven to 200°C/200°C fan/Gas 7.
Line a baking sheet with baking parchment.
Measure the flour, baking powder and butter into a bowl. Rub with your fingertips until the mixture looks like breadcrumbs. Stir in the sugar and sultanas or do this in a food processor.
Mix the eggs and buttermilk together in a jug and pour all but 1 tablespoon into the flour bowl and lightly mix together until combined – it should be a fairly moist dough.
Lightly sprinkle the worktop with flour and gently knead the dough until smooth and soft.
Roll the dough to about 2.5cm (1in) thick. Using a 6cm round fluted scone cutter, stamp out 12 scones.
Arrange the scones on the baking sheet and brush the tops with the reserved egg and milk P mixture. Bake in the preheated oven for about 12–15 minutes until risen and lightly golden.
Prepare ahead: The scones are best made on the day, but they can be made up to a day ahead and reheated.
They freeze well cooked.
Bake on the grid shelf on the floor of the roasting oven with the cold sheet on the second set of runners for about 12 minutes.
Smoked salmon, prawn and dill canapés
These are so pretty to look at and fresh and healthy to eat – the mayonnaise adds a little flavour and holds the prawn in place.
To make them really smart, and if you do not want to serve the bread, arrange 20 Chinese spoons on a serving plate, spoon a teaspoon of mayonnaise on each one and sit a canapé on top.
Makes 20
Ingredients:
4 large slices of smoked salmon
20 cooked and peeled king prawns
2 tablespoons light mayonnaise
20 sprigs of fresh dill
Juice of ½ a lemon
5 slices of rye bread
Soft butter, for spreading
Freshly ground black pepper
Method:
Lay the salmon slices on a board and slice into twenty 10cm × 1.5cm (4" × ¾") strips. Sit a prawn in the centre of a strip of salmon (so the top and tail are sticking out). Spoon a little mayonnaise on top of the prawn, lay a piece of dill on top and sprinkle with black pepper. Roll the smoked salmon piece around the prawn and squeeze over a little lemon juice.
Repeat with the remaining ingredients to give 20 canapés. Spread the bread slices with butter, cut off the crusts and cut each slice into four squares. Arrange on a plate, sit the prawn canapé on each square, sprinkle with black pepper and a squeeze of lemon and serve cold.
Prepare ahead: Can be made completely up to 6 hours ahead.
More About This Morning