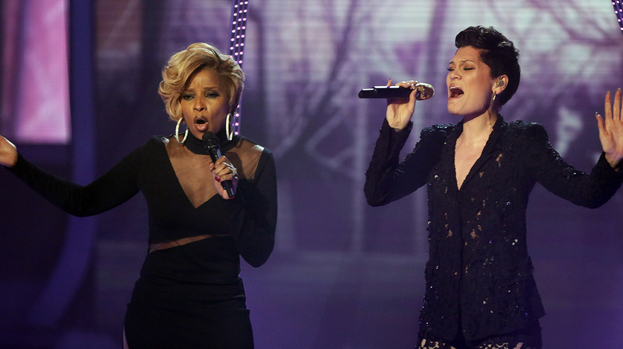 Mary J Blige got to know some of the contestants during the Judges Houses stage of this year's X Factor, and the singer made her return to the show for the 10th birthday special.
Making her way onto the stage dressed in a short black dress, the musical superstar looked every inch the soul diva as she launched into a special performance of the Bing Crosby classic Do You Hear What I Hear.
Mary was joined by pop princess Jessie J, who looked stunning in an all black outfit, with her short cropped hair dyed black to match.
You can watch their performance on the STV Player.
Speaking to host Dermot O'Leary afterwards, Mary revealed how the collaboration with Jesse came about and said: "We were trying to think about what to do for the Christmas album for the UK.
"It's all about Jesse over here. I love her voice!"
And even pop princesses get nervous as Jessie revealed: "You have no idea how honoured I was to be asked to do this, I'm shaking!"
Judge Sharon Osbourne was quick to tweet about the stunning performance and wrote:
.@MaryjBlige & @JessieJ, a beautiful coupling on @TheXFactor. Listening to that got me in the Christmas spirit! So festive & SO fabulous!

— Sharon Osbourne (@MrsSOsbourne) November 24, 2013
Mary was a big fan of singing hopeful Relley Clarke during the Judges Houses stage of the competition and praised the talented teen, telling her: "You have courage and confidence in your ability.
"I want you to do one thing – don't get nervous. Push on."
Relley failed to make it to the Live Shows, and with only six contestants remaining, who will stay and who will go tonight?
You can download all of The X Factor: Live Show 7 songs from iTunes now.
More About X Factor Top Section
Related articles
People who read this story also read