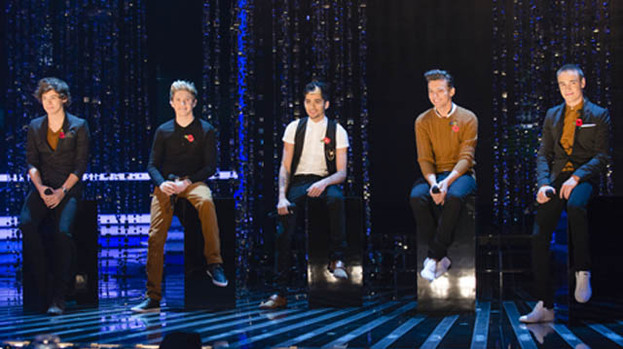 One Direction came third on X Factor in 2010, and they returned to the stage that made them famous tonight to perform their new single Little Things.
Dressed in casual suits and wearing their poppies with pride, the air was filled with the sound of screaming girls, as the boys strutted their stuff and showed this year's contestants exactly how it's done.
One Direction – made up of Harry Styles, Zayn Malik, Liam Payne, Niall Horan and Louis Tomlinson – were formed after auditioning for X Factor as solo artists.
The lads all made it to Boot Camp, with guest judge Nicole Scherzinger suggesting that they would make a good band after they each failed to make it to Judges' Houses.
The band quickly gained popularity and amassed a huge legion of female fans during their time on the show, and it wasn't long after the show had finished that Simon Cowell snapped them up and gave them a recording contract.
One Direction released their first single, What Makes You Beautiful, in September 2011 and have since gone from strength to strength.
Speaking to Dermot O'Leary after tonight's ballad performance, Harry said: "It's nice to do a ballad. We just wanted to do something a little different."
The lads were also feeling nervous about performing on the X Factor stage again, with Liam saying: "It always makes people mega nervous being back here. This is where we started out so it's nice seeing all these lovely faces."
One Direction were inducted into the Guinness World Records after their debut album Up All Night became the first debut album by a British group to top the US Billboard 200 chart, and their second album Take Me Home is due for release on November 12.
The band will also be starting a worldwide tour in February 2013.
Related articles
People who read this story also read