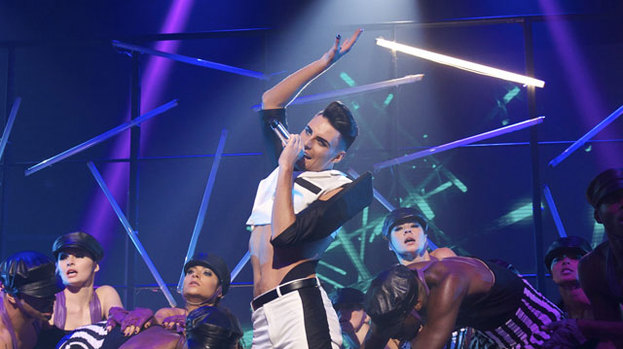 X Factor hopeful Rylan has revealed he is expecting to go home on Sunday night's elimination show after his psychic predicted he would be sent packing.
The model is no stranger to elimination after he found himself in the sing-off with Carolynne Pool during the first week of the Live Shows.
Rylan also found himself in the bottom two against Kye Sones during the fifth week of Live Shows when his mash-up of Madonna's Hung Up and Abba's Gimme! Gimme! Gimme! failed to win over the public.
But like a cat with nine lives, Rylan has clung on in the competition, despite having an enemy in judge Gary Barlow.
And, despite receiving a standing ovation from the audience for his electrifying mash-up of Duran Duran and Bros in the seventh week of Live Shows, the 24-year-old model said he thought his time in the TV talent show had drawn to an end.
And he added that he had even packed his bags to go home.
"My psychic has never been wrong before," he explained to a stunned Olly Murs and Caroline Flack on The Xtra Factor.
"I expect to be in the bottom two. I've packed my bags."
The superstitious singer explained that as the X Factor competition became more intense, he would be voted out by the public.
"The reaction tonight has been brilliant. But there are currently six of us here, but there are five people who are totally brilliant."
The Essex boy, also revealed that his Guilty Pleasures was Barbie Girl by Aqua and his shiny, silver Ugg boots! Why are we not surprised?!
Will Rylan keep his place in the X Factor competition? Find out from 8pm on Sunday, November 18 on ITV and STV.
You can download Rylan Clark's performances from the Live Shows from iTunes.
You can also download the performances from the other acts too.
And remember you can save your favourite act by voting for them on the X Factor website.
More About Rylan Clark