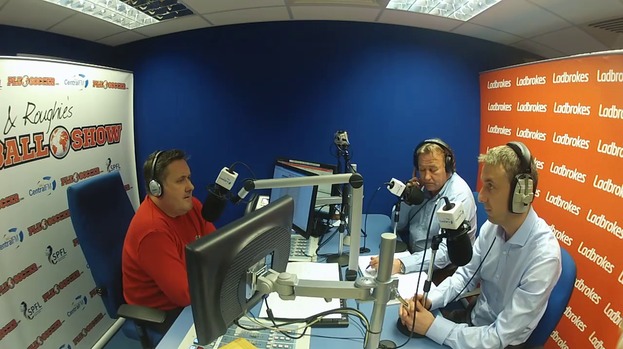 Football pundits Peter Martin and Alan Rough are kicking off our brand new channel.
Watch Peter and Roughie dissect the Scottish divisions in this popular radio phone-in, now filmed and broadcast on STV Glasgow.
Their non-stop, unscripted two-hour football chat includes opinions, interviews with first and second division managers and interaction with the public via social media.
Representatives from the premiership and championship leagues talk about Scottish football, delve into their life off pitch and get some craic with the presenters.
Join Peter and Roughie in their 'boot room' as they chat to guests from across the spectrum of Scottish and international football.
"We've had everyone from Neil Lennon, Ally McCoist and Kenny Dalgleish - he's been on a few times," said Peter.
"We have big names on the show but also cover leagues one and two, women's football and the amateur and junior leagues.
"From our point of view our radio figures have gone through the roof since the show started 18 months ago and we are really excited to have it broadcast on STV Glasgow.
"The guests come in and have fun. Football's not rocket science, it's not war and peace - the show is about guys and girls talking about the sport they love, away from football fans moaning about what Rangers and Celtic are doing."
Peter says it's tough to pick a highlight from the radio show's 18 month run, but singled out ex-Celtic and St Mirren striker Frank McGarvey as a refreshingly honest, and hilarious, boot room guest.
"There's been so many highlights, but Frank McGarvey has been one of my favourites," said Peter.
"Footballers are usually very guarded, they go on about how everyone's such a good lad and so nice etc, but Frank came in and started talking about all the players that hated him.
"He didn't hold back and was so funny with it, there were tears streaming down mine and Roughie's face."
Expect plenty of football banter, off-the-cuff gags and infectious laughter from this brand new STV Glasgow show.
STV Glasgow is on Freeview channel 23, Sky channel 117 and Virgin channel 159.
For Sky and Virgin viewers in the west of Scotland the channel should automatically appear in the TV guide.
For Freeview viewers, STV Glasgow will broadcast from the Blackhill transmitter in the STV Central region. Dependent on the equipment, viewers may need to re-tune to pick up the new channel.
Re-tuning should only take a few minutes; information on how to retune can be found on the Digital UK website.