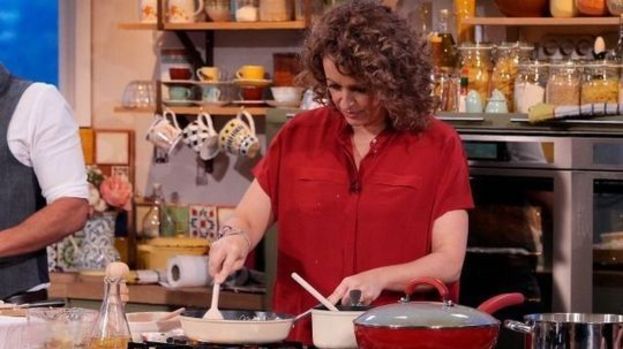 We love Nadia Sawalha's Sunday Scoop recipes and this week she is treating us to one of her all time favourite dishes: Shawarma – a dishy doner.
Nadia describes the dish as her "all time, top of the bill, most favourite street food ever."
She says the recipe is "wonderfully simple, you won't quite believe it."
Fancy cooking up this tasty doner kebab?
Here's the recipe:
Prep time: 30 minutes
Cooking time: 5-10 minutes
Serves: 4
Ingredients:
Tahini sauce:
4 tbsps tahini sauce
Juice of a lemon
Salt
Warm water in jug
Filling:
4 medium chicken breasts cut into thin slices
2 tbsps cider vinegar
Juice of a juicy lemon
1 tbsp grated lemon zest
1 tsp cinnamon
1 tsp allspice
1 tsp each of salt and pepper
½ tsp ground cardamom
3 pieces of mastic (grind this till really fine between two teaspoons) (optional)
1 small grated onion
1 small grated tomato
3 glugs of olive oil
1 tbsp finely chopped parsley
Flatbreads:
1½ cups of plain flour
Pinch of salt
½ cup of water
1 tbsp of oil
2 tbsps of toasted sesame seeds
Method:
For the filling:
Put the tahini in a bowl, add the lemon juice with a good pinch of salt, and using a whisk, slowly pour in the warm water, whisking all the time.
Don't be frightened, it might look sticky and horrible, but as you add more water (a little at a time) it will loosen up - the consistency that you're after is that of single cream.
Put all the ingredients in a bowl, stir it really well and leave in the fridge for 24 hours. If you remember, it's nice to give it a stir every now and again.
About an hour before you want to cook it, take the chicken out of the fridge and pour it into a sieve to drain.
My favourite way to cook this is on the barbecue, but as it's usually pouring with rain whenever I fancy a barbecue, I find it does just as well under a hot grill. It will only take a couple of minutes to cook, so once it's ready, pile it into hot pitta bread, add the salad and drizzle with the tahini sauce.
For the flatbreads:
Put the flour and salt into a food processor then drizzle the oil, in and blend. Drizzle in the water with the processor still running till it comes together and then let machine run for half a minute or so.
Transfer to a floured surface fold in the sesame seeds and then separate into four balls and roll out really thinly. Heat a frying pan until really nice and hot and cook the flatbreads on either side.
Related articles