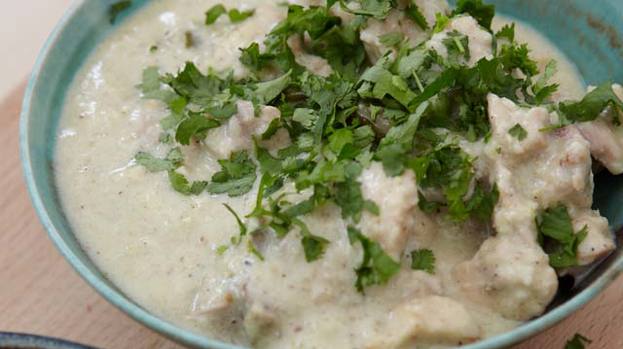 Yorkshire born Business Studies & Law teacher Rahila Hussain, 44, could always remember a very special dish from her childhood. Sadly, after her mother's death, she realised she didn't have the recipe written down. Determined to recreate the dish in her own kitchen she decided to go on a journey to her parents' homeland of Pakistan in search of her cooking heritage.
Her Fragrant White Chicken Korma is a result of months of research and tasting until Rahila hit upon the dish exactly as her mother cooked it. It's an unconventional and unusual recipe, packed full of nuts which give a luxurious texture and without the turmeric normally found in a korma. Using yoghurt instead of cream not only makes the dish lighter but also healthier than a typical curry.
Instead of reaching for the takeaway menu this weekend, make your own curry with Rahila's recipe.
Rahila's Fragrant White Chicken Korma - Rahila Hussain
Serves: 6-8
INGREDIENTS
3 tbsp vegetable oil
25g butter (optional)
1 tsp coriander seeds, freshly ground
1 tsp cumin seeds, freshly ground
2 medium onions, finely chopped
1 heaped tbsp. minced garlic
1 heaped tbsp ginger, grated, then finely ground
1-2½ tsp salt (or to taste)
1-2 tsp ground white pepper (or to taste)
1 x green chilli, finely chopped and ground
1kg chicken thighs, deboned, skinned and all fat and sinew removed, chopped into 2.5cm dice
1-2 tbsp fresh coconut, finely grated (alternatively, use desiccated coconut)
1-1½ tbsp pistachios, finely ground
1-1½ tbsp almonds, finely ground
1-1½ tbsp cashew nuts, finely ground
3 x green chillies, halved lengthways, 1 of the chillies deseeded
250ml – 500ml water
300g natural yoghurt, lightly whisked
14-16 x green cardamom pods, shells removed and seeds ground
To serve:
1-2 tbsp coriander, finely chopped (optional)
Plain boiled rice, plain pilau rice, roti or naan
METHOD
Heat the oil and butter (if using) in a pan, add the freshly ground coriander and cumin and allow to fry for 30 seconds or until colour changes slightly.
Add the onions, fry lightly until they are soft and a slight golden colour. Add the garlic and ginger and fry for 2 minutes on a low heat. Stir in the salt, white pepper and ground green chilli and cook for 30 seconds.
Add the chicken and turn the heat up. Stir fry for 15-20 minutes, or until the oil separates from the meat. Do not allow the meat to brown.
Add the coconut, pistachios, almonds, cashews, halved chillies and the water – you need enough water to nearly cover the ingredients. Bring to the boil then simmer over a low heat for 5 minutes.
Stir in the yoghurt and ground cardamom seeds and simmer for 20 minutes, or until the oil separates.
Garnish with the chopped coriander and serve with plain boiled rice, pilau rice, roti or naan.
Related articles
People who read this story also read