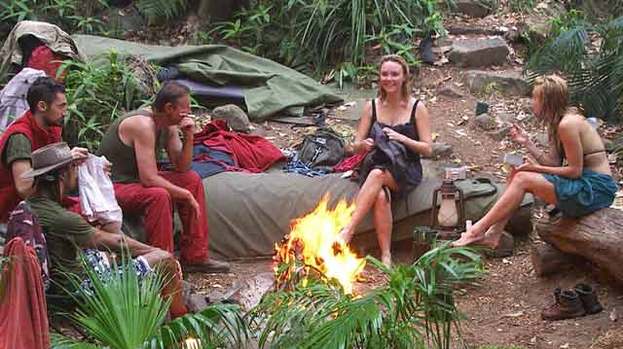 Fresh from their success of bashing the spiders in the Dingo Dollars challenge, Hugo Taylor and David Haye made their way to the Outback Shack to spend their loot.
And tonight's question concerned weight loss. The celebrities had to guess who had lost the most weight while in the jungle – Rosemary Shrager or Colin Baker - and setting a new record for the series.
Ashley Roberts, Eric Bristow and Charlie Brooks all agreed that it would be Colin who had lost the two stones and three pounds. "It's a new record" said Ashley.
The choice was mimicked by the Crafty Cockney: "It has to be Colin as he stayed in here the longest and he's my man,"
Unaware that they had answered the question wrongly, Ashley was astonished that someone had lost 31 pounds during their stay in the jungle. "It's amazing," she said. "He would never have lost that weight otherwise, that's starting a new life for him. There was such a drastic change in him."
"You could see it across his face and the way he ran across that bridge." Said Eric. "He lost that in seventeen days that's just under two pounds a day, no way could Rosemary have lost that weight in five days less. He's a record holder; it's got to be Colin."
As the ranger brought the shack door down in the faces of David and Hugo, it was clear that the duo were disappointed. They returned to camp empty handed, much to the surprise of the celebrities.
David Haye revealed the results of the drastic weight loss. He said: "In 15 days Rosemary lost 31 pounds, that's the equivalent of four babies weighing seven and a half pounds."
And the Boxer was sure that Colin had lost the most weight. "We thought it was Colin too, maybe he lost it around his face and Rosemary lost it round her stomach," suggested David.
Thoughts then turned to what Rosemary must have been eating before entering the jungle. Eric was quick to offer his suggestion in typical Bristow fashion: "She must have been a pig."
Charlie piped up: "Credit where credit is due Eric."
And the Crafty Cockney wasn't quite finished yet. He said: "Credit? She doesn't really look any better with losing all that lot, she needs to lose a lot more yet."
Related articles
People who read this story also read