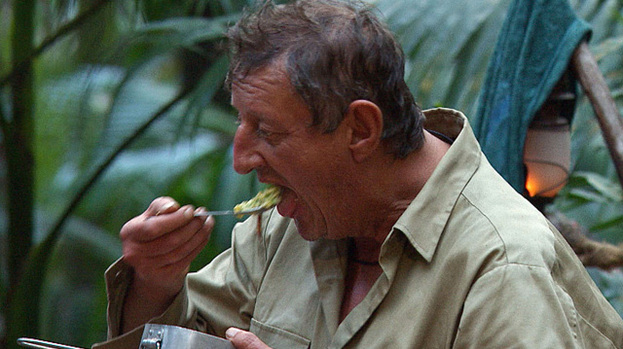 Darts champion Eric Bristow may be well known for his skill at hitting the bullseye but today in camp he displayed another talent for hitting the target - aiming right at his campmate's weak spots.
The 55-year-old was in a grumpy mood and took it out on some his campmates, reducing Helen Flanagan to tears when he commented on her skin, saying: "you've got a fantastic diet when you're at home. Is that before the chocolate or after the chocolate? That's what done your skin all that s**t you're eating."
The former Corrie actress was so upset she spoke to the Bush Telegraph about Eric's cruel comments: "I love everyone in camp but I'm really sensitive about skin. I know it sounds really stupid I can't believe I'm crying. It just gets to me because I feel conscious enough because I haven't got any makeup."
Eastenders actress Charlie Brooks also felt moved to speak about it in the Bush telegraph saying, "I'm finding it a little bit hard in camp sometimes the boys; they're lovely, they would never mean to and I know they love me but boys don't have as much sensitivity as girls."
It wasn't just Nadine who was targeted by the grumpy darts champion. Eric has also been forthright in telling Rosemary that her place is in the kitchen and he accused Limahl of taking too long with the wash bucket telling him, "It hasn't got your name on it."
Former Pussycat Dolls member Ashley explained that: "Eric says what's on his mind all the time. You know where you stand with Eric. What you see is what you get and he's not shy to tell you what's on his mind.
People who read this story also read