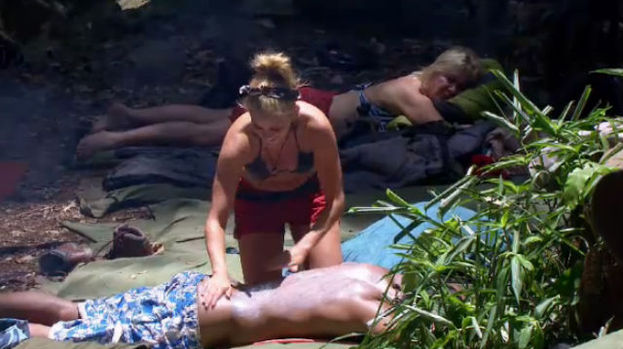 Ashley Roberts has already revealed that she is keen to find romance in the jungle and, thanks to David Haye, she may be in luck.
The cheeky champion boxer was sunning himself in the jungle when he realised that he'd yet to tan his back. And fortunately for him, Pussycat Doll Ashley was on hand to oil him up.
He said to her: "You couldn't do the honours could you? Suncream? Nice slow-mo action?"
And before she knew it he'd flipped over and pulled down his shorts to reveal a hint of bum.
"It's just a sneaky way of getting a massage really," the married boxer admitted. "Take your time."
But while Ashley was more than happy to oblige, she knew right there and then that the steamy jungle rub down was bound to get tongues wagging.
"Pussycat Doll rubs down heavyweight champion," she joked, in what we took to be a great idea for a headline. "We'll just make sure the backside here is nice and covered."
And she added: "I'm sweating now!"
Ooh la la!
Related articles
People who read this story also read