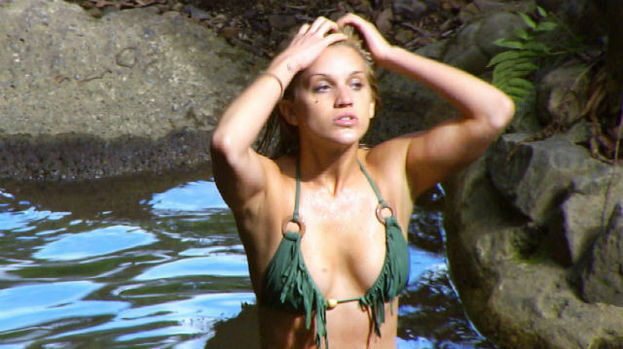 Gourmet chef Rosemary Shrager and 80s pop star Limahl arrived in the main camp. But not all of the celebrities were happy to see them.
In camp, the celebrities were not in a welcoming mood and were not looking forward to the new arrivals.
Down by the wash pool, David Haye, Eric Bristow and Hugo Taylor suggested that the new camp mates should not be allowed to have dinner. Instead they speculated that the new arrivals should have to eat rice and beans.
David said to Nadine Dorries, "The two new imposters, should they get some of the potential food that's been won by our girls or should they have the beans and rice rations we've been living on?"
Nadine however, disagreed and said, "Once they get into camp it's all equal. You think we should deprive them of food? It's kind of dividing of them and us."
But David continued, "They're just like you, they're the enemy. You're not the enemy anymore."
Both Eric and Hugo agreed with the former WBA World Champion.
Hugo admitted, "Normally I would have been, 'Yes of course, share' but something's happened to me. I don't want to share."
When the new arrivals entered the camp, most of the celebrities went over to the greet them. Eric, however, remained in his hammock.
But the mood quickly changed once Limahl and Rosemary informed the camp that their successful overnight stay in the Bushman's Refuge had earned them all, tea, coffee and biscuits.
The jungle weary celebrities were also thrilled to see the arrival of a qualified chef. But when Nadine said to Rosemary that she was "fascinated to see what she can do with beans." Tired Rosemary snapped, "I'm not going to be doing anything tonight."
Elsewhere, 80s Pop sensation Limahl was attempting to bond with his new camp mates and the topic soon turned to his music career.
He told Helen Flanagan and Brian Conley that 'Limahl' is his stage name and anagram of his surname Hammill.
As former Pussycat Doll Ashley Roberts joined the conversation, Brian explained that Limahl was a "very famous popstar,"
Referring to Helen and Ashley, Limahl said, "These two young ladies were probably born after I had my hit which was in 1983." He then said to Ashley, "You may know it, it was top five in America.
Ashley who admitted to be being three years old when "Too Shy" was released, asked Limahl to sing the song, which he promptly did, much to her enjoyment.
A clearly thrilled Limahl then added, "A year later I did a song from the movie Never Ending Story."
A shocked Ashley then said, "What? That was my favourite movie. I used to listen to that sound track over and over again. I let the movie play and rewind so I could dance and listen to the song."
Visibly chuffed at having at least one fan in camp Limahl quipped, "You really do know it don't you?"
Is this the beginning of a beautiful friendship?
Related articles
People who read this story also read