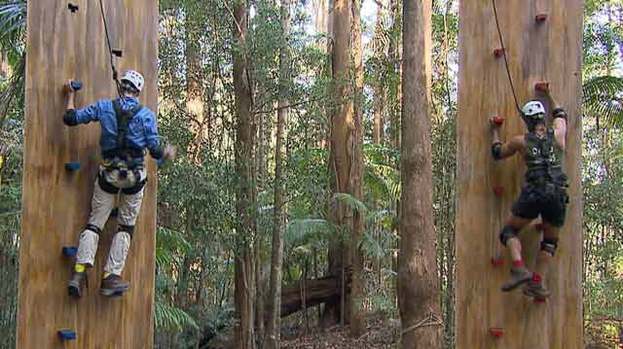 Hugo Taylor and David Haye met once again for the Dingo Dollar challenge, something that the Made in Chelsea star was less than enthusiastic about.
Dismayed to see his former opponent, Hugo said "Great. Another physical challenge and it's you."
Hugo read the instructions for the challenge which was called Shaping Up. "High in the trees; The Dingo Dollars wait; For one brave climber to claim the prize at stake; Find the right shaped pegs to go in the wall; For it's a race to the top, so be careful not to fall."
The two had to find pegs which fitted in a jigsaw fashion into holes on wall. They then had to scale the wall using the pegs as footing and grips to reach the Dingo Dollars at the top. The winner was the first celebrity to the top, and they would have the chance to win a treat for their camp.
David said "I've got to make sure I get up there and get those dingo dollars baby. I think Hugo wants to win this challenge and I'm sure he'll go hell for leather."
Before leaving, Crafty Cockney Eric Bristow piled the pressure onto Hugo. "I'm not putting any pressure on you but the only two things we've won in here have been won by women. It's time for the boys" he said. Meanwhile in Croc Creek, David tutored his camp mates about himself, his career and his history, in preparation for another victory.
The two celebrities each took a different approach to the challenge. Hugo hurriedly tried to match the peg to the hole where as David took a bit more time to study and solve the challenge. He said "It's like a puzzle. You can't do a puzzle frantically trying to rush it. You have to look at the piece and get the pieces out and strategically work your way through it.
David completed the challenge before Hugo, triumphantly scaling the wall and ringing the bell to release his bag of dingo dollars. Hugo said "For me the game was won and lost when I put the wrong peg in the wrong hole." A bit obvious there Hugo!
He added "After that, David was racing miles ahead because the one that was meant to be two above was the one I had in the one two below."
Hard luck Hugo. You might get another chance to best the former WBA world Champion yet!
Related articles
People who read this story also read