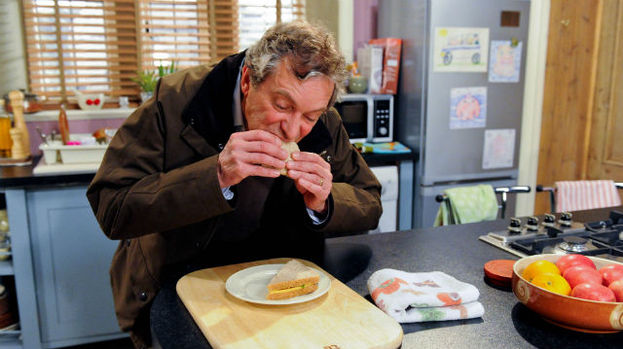 Ashley has fallen spectacularly from grace over the last couple of months, and tonight sees him hit an all time low when he resorts to selling his stuff to a pawnbroker.
After an uncomfortable night on the church floor, Ashley sneaks into Mulberry Cottage and makes himself a sandwich before rifling through drawers trying to find anything of value.
When Ruby arrives Ashley panics and snaps at her, leaving her concerned that he was in the house by himself. Clearly nobody feels the need to lock their doors…
After handing his possessions to a pawnbroker, he gives all the money he has to Laurel and lies to her that he's been paid, and she's left confused when she later finds out that he was in the house.
Meanwhile, Megan feels uncomfortable with Robbie around and makes it clear that she doesn't want him around, and when she offers him money to go travelling, he catches on to what she's up to and turns down her offer, leaving her feeling guilty.
Agreeing to let him stay at Home Farm, will she be able to accept her son or are the pair going to be at loggerheads? Maybe he should have taken the money…
Elsewhere in the village, Chas and Cameron enjoy a romantic weekend together. It can't be long until someone finds out about their affair…
Don't miss Emmerdale on STV tonight.
People who read this story also read