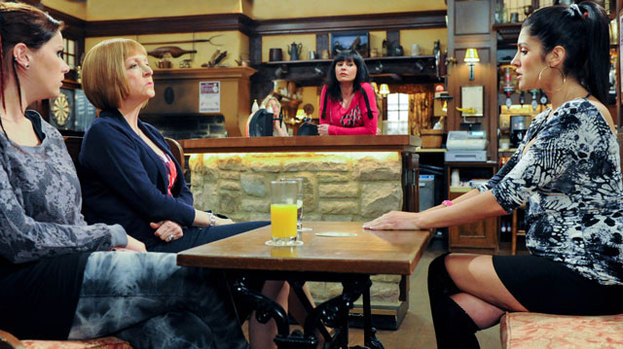 Alicia is terrified at the thought of going to prison, so she swallows her pride tonight and apologises to Val, but her plan backfires and she ends up making things worse between them.
Things kick off when Alicia asks Val for a quiet word, and realising that she's trying to say sorry, Val enjoys making it difficult for her and is smug, rubbing Alicia up the wrong way.
As the pair end up rowing, Val has the final say and Alicia is devastated when she realises that she's made everything worse. Confiding in David, he advises her to tell Jacob that she might be going to prison.
Elsewhere in the village, Rodney leaves Ashley alone with Angelica, and Nicola is furious when she returns, accusing Ashley of having anger management issues.
Confiding in Laurel about what happened, Ashley is devastated when she doesn't want to know, and things go from bad to worse when it becomes clear that he can no longer stay with Rodney, forcing him to move into the B&B.
Meanwhile, Holly is offered a new job and Marlon realises that he still has feelings for Laurel.
Don't miss Emmerdale on STV at 7pm tonight.
MORE FROM THE VILLAGE
People who read this story also read