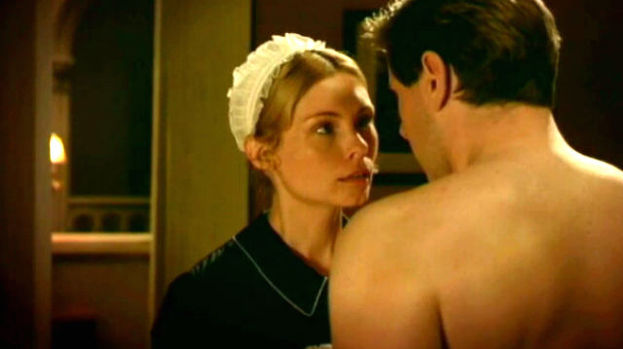 There was a sharp intake of breath amonstt Downton Abbey fans during the first episode of the brand new series on Sunday, as viewers watched sneaky maid Edna Braithwaite wiggle her way back into the family's estate.
After being fired for inappropriate behaviour, including making unwanted advances towards widower Tom Branson, Edna was given her marching orders.
But she has been waiting in the wings, waiting for a chance to return to the Abbey – and after spotting an advert for a lady's maid position, manage to worm her way back into the family's affairs.
"At the beginning of series four, Lady Cora is without a lady's maid and Edna ever ambitious spots an opportunity to sneak her way past Mrs Hughes and back into Downton Abbey," said MyAnna Buring, who plays Edna.
"Let's just say she is full of natural charm and uses that to great effect."
And once firmly in the fold, Edna continues with her plan to become even more ensconced in the family. But it looks like at least Branson can breathe a sigh of relief, because romance isn't quite what's on the lady's maid's mind.
"When they met during the Christmas episode I think she definitely had this sort of romantic view that this could be love," MyAnna said.
"Though I think she's much more pragmatic this time round believing they can be allies and help one another. She fantasises about him in that way, as opposed to a romantic way."
The actress added: "I think she fantasises about a life where she's waited upon as opposed to waiting on anyone else. And in a way who can blame her? Why not have those dreams?"
We wonder quite how far Edna Braithwaite is going to take her plan though! Downton Abbey returns to STV on Sunday at 9pm.
Related articles
People who read this story also read