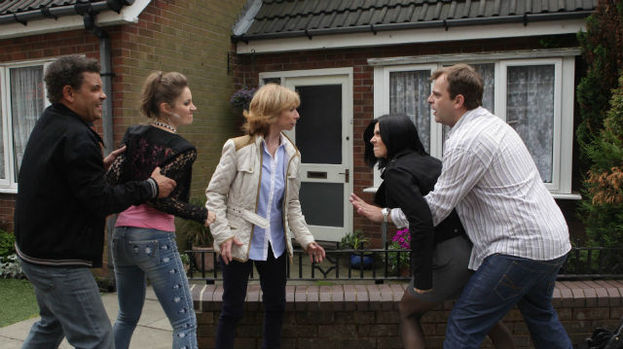 Michelle is furious with Ryan for taking cocaine, and tonight things go from bad to worse when he lies about where he got the cocaine.
Things kick off when Michelle collects him from the police station and he tells her that Kylie gave him the coke, leaving her furious.
After confronting Kylie in the street, Michelle returns to the flat and cuts up all of Ryan's bank cards, leaving him horrified.
Admitting that he lied about Kylie, Ryan swears that his drug taking was a one-off, but will Michelle believe him, and will he be able to keep himself out of trouble?
Meanwhile, Kirsty is seething when she finds out that Tyrone has given Tommy a break from his loan repayments, and unable to control her temper, she once again turns into The Hulk and lashes out at her boyfriend.
Tyrone is stunned when Kirsty beats him black and blue, leaving him covered in bruises, but will he forgive and forget or is this the end of the pair's relationship for good?
Elsewhere on the cobbles, Stella demands that Karl sign the pub over to her, while Chesney celebrates his 18th birthday with his first legal pint in the Rovers.
Don't miss Coronation Street on STV tonight at 8.30pm.
MORE FROM THE COBBLES
People who read this story also read