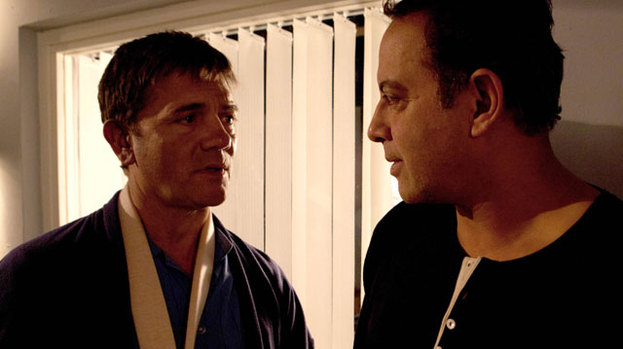 Coronation Street's twisted Karl Munro is about to confess for taking Sunita's life, after switching off her ventilator in hospital – but will anybody believe him?
Shobna Gulati revealed the soap twist during an interview on today's episode of This Morning, while chatting to Phillip Schofield and Holly Willoughby about the next piece of the puzzle in the increasingly dramatic plot.
Viewers recently watched as Karl stood by and let Sunita perish in the fire at the Rovers Return, after failing to help her escape after watching her fall into the cellar.
He then callously removed Sunita from the ventilator which was helping keep her alive in hospital, ultimately ending her life.
But audiences will watch as the good-for-nothing character become racked with guilt over the next few days, before eventually attempting to come clean for his dastardly deed.
Explaining the shocking twist, Shobna said: "I think at the funeral, I don't know it's a spoiler if I say what he [Karl] does, but he does confess... but does anybody believe him?"
It looks like Karl will do his best to come clean – but his friends and neighbours might very well just jump to the conclusion that he is feeling terrible after having an illicit affair with Dev's wife, and blame himself for her death.
Will Karl emerge from the drama unscathed and without blame? Tune in to Corrie to find out! The programme is on STV on Mondays and Fridays at 7.30 and 8.30, and 7.30pm on Wednesdays.
Catch up with missed episodes of Coronation Street on the STV Player.
More About This Morning
Related articles
People who read this story also read