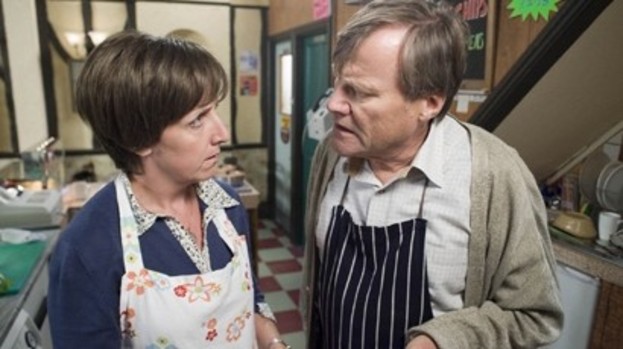 One of Coronation Street's most popular characters, Hayley Cropper, is to leave the soap in a sensational "dramatic exit plot*.
The actress who has played transsexual Hayley for the last 15 years has decided to quit Corrie to pursue new projects, after being inspired by her recent work on the play Black Roses: The Killing of Sophie Lancaster at the the Royal Exchange Theatre in Manchester.
Fans of the soap favourite won't need to wave goodbye to Hayley until the end of 2013, at the end of her current contract.
But when the time comes for the character to bow out, it looks like Hayley won't be leaving quietly…
Executive producer of Coronation Street, Kieran Roberts, said: "The enduring popularity of and affection for Hayley – and of course her wonderful partnership with Roy – has so much to do with the brilliant way Julie Hesmondhalgh has brought the character to life on screen for the past 15 years.
"We'll be sorry to say farewell to Hayley – and to Julie – but we're planning a screen exit worthy of one of Coronation Street's best-loved characters."
Julie, who made waves when she joined the cast as transsexual Hayley, the first permanent transsexual character TV soap, said that she'll miss her role, but is also excited to explore new avenues.
"I've had the most wonderful and happy time in the life-changing 15-16 years I've been in Corrie, and I owe so much to the show and the special team that make it happen," Julie explained.
"The decision to hang up Hayley's red anorak was a tough one, but doing the play at the Royal Exchange last year made me realise that there's life in the old dog yet and that there are other things I want to try."
Julie added: "Whatever happens next I'll always be proudest of lovely Mrs Cropper and in particular what we achieved in changing attitudes to transgender and in portraying possibly the most loving, faithful and steadfast couple in soap history! I'll always be the show's biggest fan."
The actress joined the soap as Hayley Patterson in 1998 and viewers were soon won over as they watched a love affair blossom with cafe owner Roy Cropper.
The pair soon married, in a storyline that won critical acclaim and was praised by the transgender community.
Storylines Julie has been involved in have included Hayley being forced to deal with small-minded attitudes of those who disagreed with her and Roy's marriage, as well being caught up in evil Tracy Barlow's plot to frame Roy as the father of her child, in order to fleece the Croppers of their hard-earned savings.
More About Unforgettable