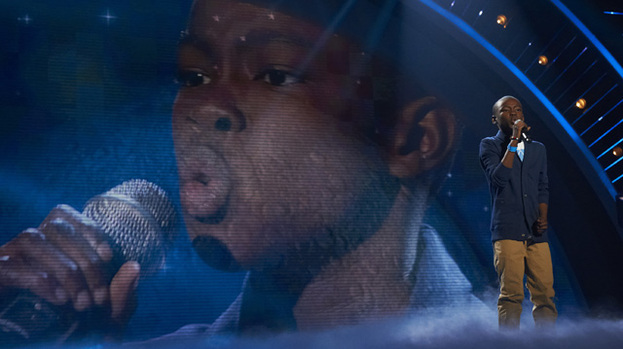 From North London, little Malakai performed a heart-felt rendition of No One by Alicia Keys that brought the audience to their feet.
After being wracked by nerves in his audition, the young singer grew in confidence throughout his performance, ending it with a kiss blown in the direction of Alesha.
The judges believed he had matured from his first appearance.
David said: "That is the greatest comeback of all time. Two weeks ago the nation saw you cry on tv, now they've seen you rock the joint."
Alesha agreed: "We all fell in love with you at the first audition, such maturity. You sing as if you've lived a thousand lives. You are a raw talent and I know your future is bright."
Amanda enjoyed the performance, but highlighted a couple of tuning problems: "I thought it was a huge improvement on your audition. There were a few pitching issues, but in the circumstances you should be proud of yourself for what you've done tonight."
Simon was more enthusiastic, saying: "I think you went from a boy to a man. You conquered your nerves. If you can do what you've done tonight you are going to be very successful going forward."
How would he feel if he won? He said: "I'd be absolutely blown away if I won.
"My dream is to put together a large-scale show with a cast of cabaret mis-fits.
"I'd cast acts that I find spellbinding, spectacular or ground-breaking, acts that rarely have the chance to perform on stages larger than a couple of meters square. I'd love to show new audiences exactly what the London cabaret scene's been keeping under wraps for the last six years or so."